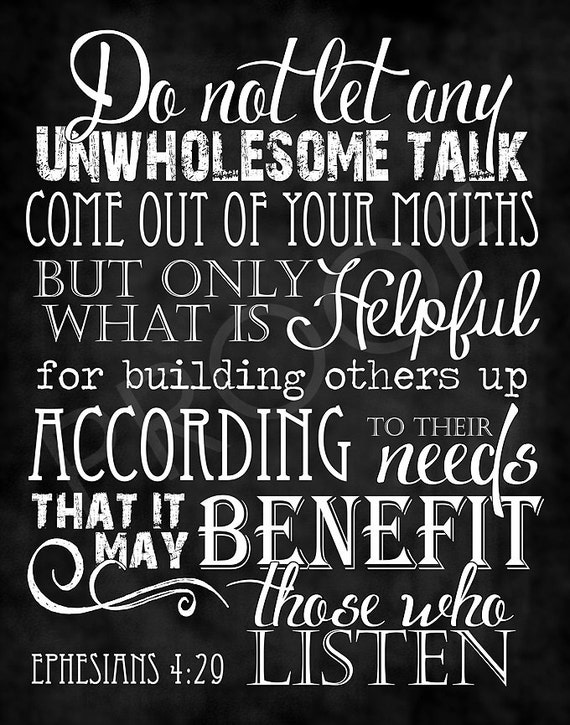 Day 23: Dare to Quit Being Critical of Others
What is it about gossip that is so alluring? Why is it so hard to not take part in it? I love the way the Cambridge Dictionary defines "gossip": conversation or reports about other people's private lives that might be unkind, disapproving, or not true. Our words are to be used for building each other up, not tearing them down. Yet how often do we take part in gossip when we are among our friends, even our own family?
In the moment, being critical and judgmental of others makes us feel better about ourselves. Putting others down, talking about their issues, personal lives, appearances, whatever; it's only done out of selfishness and maybe suppressed shame and guilt in our own lives. We desperately want others to view us as perfect individuals, people who have it all together, but deep down we're hurting and self-conscious.
Our job on this earth is not to judge others and their sins, but it's to love each other as God loves us. We are all sinners; we are far from perfect. But we are shown grace, mercy, love, and forgiveness each day. We don't deserve it, we never have and we never will, but nothing we do can change how much God loves and cares for us. If He can do that for every single human on this earth, why can't we do the same to each other?
This is how we know who the children of God are and who the children of the devil are: Anyone who does not do what is right is not God's child, nor is anyone who does not love their brother and sister.
(1 John 3:10)
Do not judge, or you too will be judged.
(Matthew 7:1)
The teachers of the law and the Pharisees brought in a woman caught in adultery. They made her stand before the group and said to Jesus, "Teacher, this woman was caught in the act of adultery. In the Law Moses commanded us to stone such women. Now what do you say?" They were using this question as a trap, in order to have a basis for accusing him. But Jesus bent down and started to write on the ground with his finger. When they kept on questioning him, he straightened up and said to them, "Let any one of you who is without sin be the first to throw a stone at her."
(John 8:3-7)
Therefore let us stop passing judgment on one another. Instead, make up your mind not to put any stumbling block or obstacle in the way of a brother or sister.
(Romans 14:13)
It does not dishonor others, it is not self-seeking, it is not easily angered, it keeps no record of wrongs.
(1 Corinthians 13:5)
and to make it your ambition to lead a quiet life: You should mind your own business and work with your hands, just as we told you,
(1 Thessalonians 4:11)
Love must be sincere. Hate what is evil; cling to what is good. Be devoted to one another in love. Honor one another above yourselves. Never be lacking in zeal, but keep your spiritual fervor, serving the LORD. Be joyful in hope, patient in affliction, faithful in prayer. Share with the LORD's people who are in need. Practice hospitality. Bless those who persecute you; bless and do not curse. Rejoice with those who rejoice; mourn with those who mourn. Live in harmony with one another. Do not be proud, but be willing to associate with people of low position. Do not be conceited. Do not repay anyone evil for evil. Be careful to do what is right in the eyes of everyone. If it is possible, as far as it depends on you, live at peace with everyone.
(Romans 12:9-18)
"Do not judge, and you will not be judged. Do not condemn, and you will not be condemned. Forgive, and you will be forgiven. Give, and it will be given to you. A good measure, pressed down, shaken together and running over, will be poured into your lap. For with the measure you use, it will be measured to you."
(Luke 6:37-38)